Vom 03. bis 17. März 2017 können die Werke der iranischen Künstlerin und Kunstforscherin HELENA SHIN DASHTGOL im Iran Haus in der Drakestraße 03, 12205 Berlin gesehen werden. Die Ausstellung zeigt ausgewählte Werke der Künstlerin.
Helena Shin Dashtgol nahm in Januar 2017 als einzige Künstlerin aus Iran an der KÜNSTLERMESSE DRESDEN teil konnte mit ihren Arbeiten das Publikum überzeugen. Die Kunstwerke können direkt erworben werden.
Vernissage:
3. März 2017, 17-19 Uhr Iran-Haus, Drakestr. 3, 12205 Berlin
Ausstellung
3. – 17. März 2017, Mo-Fr | 10-15 Uhr Iran-Haus, Drakestr. 3, 12205 Berlin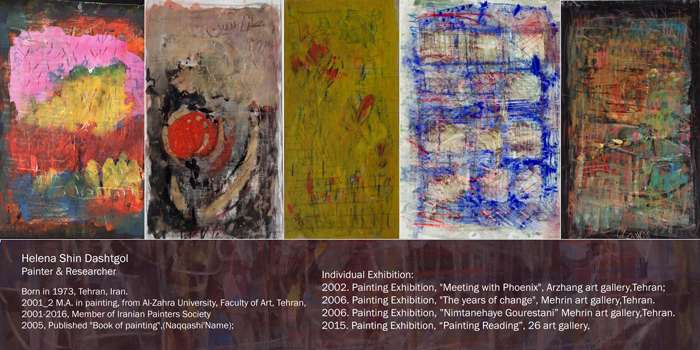 Helena Shin Dashtgol
Painter & Researcher
Born in 1973, Tehran, Iran. 2001_2 M.A. in painting, from Al_zahra University, Faculty of Art, Tehran, 2001-2016, Member of Iranian Painters Societynt Member of Iranian painters society, 2005, Published "Book of painting",(Naqqashi'Name);
Research Interests
-Strong Things in Persian Painting. -The good and The evil in The ancient iranian art. -The Ascension of Prophet Mohammad in Persian painting (from Ilkhanid to Qajar era). -Strong Things in The Iran's art and culture. 2000-2016: Puplished some essays in The Iranian professional books and Magazines in art,about "IRAN'S ART, Shahnama paintings and Islamic culture & tales"
Some Articles
2000. The Devil Manifestations in Iran's Folkloric Art 2001. The Effect of the Celestial on Iran's Mythology 2001. Angels in Persian Painting 2002. Rudaba's maids meeting with Zal 2002. Ceramic plate with a Zodiacal design from Iran 2003. Water's Face 2003. Pictorial reflection of woman in Islamic narration and Shah-name 2004. The presentation of Phoenix in Iranian Islamic art 2004. An Examination of the manuscript Mirhehdar's Mirajnama 2005. The handwritten illustrated Version of the "Thousands and One Nights" attributed to the Nasserid 2006 . The pictures of the Ascension of holly Prophet Mohammad from Khamsah-yi Nizami
Book:
معراج نگاری نسخه های خطی تا نقاشی های مردمی با نگاهی بر پیکرنگاری حضرت محمد( ص ) 1389 انتشارات علمی و فرهنگی
http://www.elmifarhangi.ir/newpublished/details.aspx?BookID=c4aac39f-4441-4047-bf31-f8d93f3f74ac
Teaching
 (2003-2016) Artistic Methods at the university and the Academic Functional Collages, Tehran The historical of Qaner Analysis in Iranian Painting, The Bases of The visual arts, Methodology
Individual Exhibition:
Painting Exhibition,"Meeting with Phoenix",Arzhang art gallery,Tehran;
Painting Exhabition,"The years of change",Mehrin art gallery,Tehran.
Painting Exhibition," nimtanehaye gourestani"‿Mehrin art gallery.Tehran.
Painting Exhabition, " painting Reading", 26 art gallery,
She has participating in more than 45 group painting Exhibitions: Group Exhibitions in Iran and abroad (more than 40):
Amir Kabir art gallery, Tehran
Khaneye Soureh, (young group), Tehran
Khaneye Soureh, Isfahan
"Cultral Heritage Week", Sad-Abad Cultural Heritage Museum, Tehran
Khaneye Soureh, Tehran
Third Iranian Painting Biennale, Tehran
Shohada Museum, "Ashoura", Tehran
Shohada Museum, "17 Shahrivar", Tehran
Manifestation of Feeling Exhibition, Niavaran Cultural Center, Tehran
painting Exhibition, "woman's week", Romania, Bucharest
1996."jamshidieh & Behzad" Art Gallery, Tehran
Bahman Cultural Center, Tehran
Khavaran Cultural Center (War's Week), Tehran
Bahman Cultural Center, "Expectation", Tehran
Daryabeigi Art Gallery, Tehran
Iranian Export Promotion Center, International Trade Fare, Tehran
Laleh Art Gallery, Tehran
1st International Biennale Exhibition of Plastic Art of Muslim Students, Tehran Art Aallery, University of Tehran
Niavaran Cultural Center, Tehran
Painting Exhibition, "New Experiences" Art Artists House, Tehran
painting Exhibition, "Iran's Women Artists", Beirut
Khavaran Cultural Center, Tehran
Member of Iranian Painters' Society, Artist House Gallery, Tehran
Niavaran Cultural Center, Tehran
Art Cultural Center (Support of Bam), Arasbaran, Tehran
Member of Iranian Painters Society, Artists House, Tehran
Group Exhibition (Member of Iranian painter society), Art Cultural Center, Arasbaran, Tehran
Member of Iranian Painters Society, Artists House, Tehran
Saba Culture House, Tehran
Member of Iranian painters Society, Mehrin Art Gallery, Tehran
Momayez Art Gallery, Artists Iranian House, Tehran
Momayez Art Gallery, Artists Iranian House, Tehran
Painting Exhibition/ Water Color/ Mehrin ART Gallery/Artists Iranian house, Tehran
Contemporary Museum,Member of Iranian painter society,  Esfahan, Iran
Member of Iranian Painters Society, Artists House, Tehran
The Middle East Art Gallery, Tehran
Expo TEHRAN, TAALARE VAHDAT
Member of Iranian Painters Society, Artists House, Tehran
Mehrin Gallery, Tehran
Aria Gallery, Tehran
2015 Abtin Gallery, Tehran 2015  Member of Iranian Painters Society, Artists House, Tehran 2016  Bahman Cultural Center, Tehran Email:
hshind@googlemail.com  /
 h_shindashtgol@yahoo.com https://sites.google.com/site/helenashindashtgol/ P O Box:  Tehran Iran 14515/1483
Helena  Shin Dashtgol